Adobe Character Animator 2020 v3.0.0.276 (x64) Pre-Activated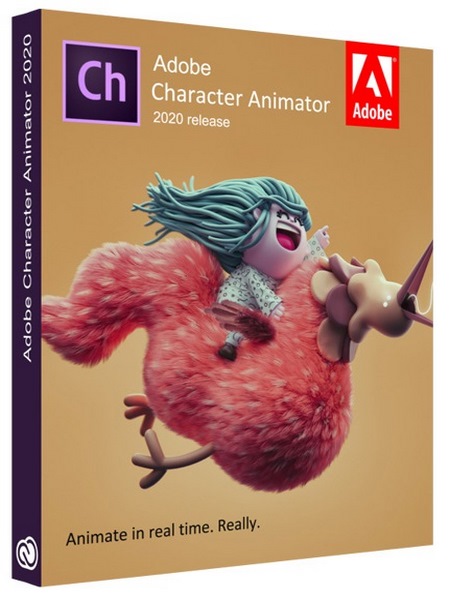 Adobe Character Animator 2020 v3.0.0.276 (x64) Pre-Activated | 784.39 MB
Information:
Release Date : 2019
Languages : English / Multilanguage
Operating System : Windows 7 / Windows 8 / Windows 8.1 / Windows 10
System Type : 64-bit
Character Animator allows you to animate two-dimensional characters created in Photoshop CC and Illustrator CC. Take your movements and record your voice using a webcam and microphone. Character Animator tracks your facial expressions and movements in real time, and your smile is transmitted to the character.
Create characters from scratch in Illustrator or Photoshop, or use the built-in templates in Character Animator.
Turn two-dimensional graphic objects into animated characters using your own movements and facial expressions shot on a webcam.
Control the movements of the puppets by adding and removing gestures, such as turning the head or automatically blinking.
Export interactive animation streams for broadcast.
Features :
New panel "Triggers". Using the keyboard or MIDI device, you can display, hide, flip or scroll through various parts of the puppet. The new panel "Triggers" contains all the triggers for quick and intuitive movement of characters. Turn triggers on and off, or create interchangeable sets to quickly change hands or switch between character costumes.
New Controls panel The new Controls panel simplifies working with characters and makes it more visual. Triggers and puppet properties are available on this panel, including buttons and sliders. You no longer have to memorize keys to enable movements or change layers. The buttons automatically adjust to your graphic object. These controls can be saved with the character and sent to other users.
Improved eyebrow and eye animation. Added rotation and movement of the eyebrows, with which you can make the faces of the characters more expressive and convey emotions of anxiety, anger, surprise, etc. The new function of fixing the gaze allows you to more accurately control the movements of the pupils.
Animation when changing poses. The new function of changing poses smooths the transitions between the poses of the characters and creates the impression of hand-drawn animation. Adjust the degree of smoothing and the duration of each pose.
New actions: "Physics", "Choice of layers", "Manifestation and disappearance". Engage a specific layer in a puppet or group using the Layer Select tool. The tool for controlling the appearance and disappearance of elements allows you to hide or display certain parts of the puppet. The Collision function has appeared in a new area of physical properties, allowing the puppet to collide with surrounding objects or other puppets and bounce off them.
Improved sound synchronization. Waves is a visual audio synchronization tool that supports end-to-end compatibility with Adobe Audition.
More accurate phonogram synchronization. Thanks to the new algorithm for synchronizing phonograms, lip movements are more accurately compared with pronounced sounds. Synchronized soundtracks created or edited in Character Animator can be copied and pasted into After Effects.
Improved rigging and user interface features. Import clipping groups from Photoshop, make precise changes to the timeline, and connect the puppet parts with automatic brackets.
Support control panel. Control your puppet using your MIDI device, not just your mouse and keyboard.
And much more ... Extras: improved gait, including flexion of the toes when walking, visemes, editable using keyboard shortcuts, etc.
DOWNLOAD LINKS :
Code:
https://rapidgator.net/file/3426ab94e0cd72da461e110ed794d147/Meera169_Adobe.Character.Animator.2020.v3.0.0.276.Pre-Activated.rar.html

https://uploadgig.com/file/download/cFf03F8441f513A1/Meera169_Adobe.Character.Animator.2020.v3.0.0.276.Pre-Activated.rar

https://nitroflare.com/view/D1A6635C6061D5B/Meera169_Adobe.Character.Animator.2020.v3.0.0.276.Pre-Activated.rar

http://uploaded.net/file/9ytnpy9e/Meera169_Adobe.Character.Animator.2020.v3.0.0.276.Pre-Activated.rar